In Liquidation
Last 20 companies going into liquidation

COMPANY
CODE
DATE OF LIQUID
NOTICE
MORETON RESOURCES LTD
MRV
16 Jul 20
At the 15 July 2020, creditors of the MRL and its subsidiaries resolved to place the group in liquidation, appointing Grant Sparks and David Orr of Deloitte Financial Advisory as Joint and Several Liquidators of the Group.
BCD RESOURCES NL
BCD
29 Jun 20
Christopher John Palmer appointed Liquidator
WPG RESOURCES LTD
WPG
25 Jun 20
Adam Nikitins of Ernst & Young is appointed Joint and Several Liquidator
COOLGARDIE MINERALS LIMITED
CM1
28 May 20
Consent of SMS was not received to the variation to the Recapitalisation Proposal within the time required and accordingly, the Company has proceeded into liquidation pursuant to the terms of the DOCA. The Company will be deregistered from the ASX as a result of the liquidation.
CUDECO LIMITED
CDU
30 Apr 20
Jeremy Nipps and Matthew Joiner of Cor Cordis have been appointed as liquidators of the Company
PROTO RESOURCES & INVESTMENTS LTD
PRW
29 Apr 20
Bryan Kevin Hughes and Daniel Johannes Bredenkamp of Pitcher Partners appointed liquidators
AUSTRALIAN CAREERS NETWORK LIMITED
ACO
16 Apr 20
on or about this date the company was placed into liquidation, to our knowledge the liquidators are KPMG
MISSION NEWENERGY LIMITED
MBT
17 Mar 20
Gregory Alexander Russell is appointed liquidator
AED OIL LIMITED
AED
11 Mar 20
Andrew Hewitt of Grant Thornton appointed liquidator
NOBLE METALS LIMITED
NMM
03 Mar 20
Giovanni Maurizio Carrello and Shaun William Boyle of BRI Ferrier appointed liquidators
FREEDOM INSURANCE GROUP LTD
FIG
21 Feb 20
Shareholders passed the resolutions in items 1 through 4 by their requisite majority at the EGM held today at 10:00am (Sydney time) on a poll. Shareholders of the company resolved to enter into members voluntary liquidation and to appoint Joseph Hayes and Andrew McCabe of Wexted Advisors as liquidators of the company.
TARGET ENERGY LIMITED
TEX
17 Dec 19
On 17 December 2019, the company was placed in liquidation by order of the Federal Court of Australia. The petitioning creditor was Mr Laurence Roe, the former Managing Director of the company, who was owed entitlements arising from his employment with the company.
ONEMARKET LIMITED
OMN
02 Dec 19
The securities of OneMarket Limited will be suspended from quotation immediately under Listing Rule 17.2, following release of the results of its general meeting, where shareholders approved the resolution to commence a voluntary winding up and delisting of OMN from ASX Limited. OMN will be removed from the Official List of ASX at the close of trading today, in accordance with Listing Rule 17.11.
INDUS ENERGY NL
IND
11 Nov 19
Bryan Kevin Hughes and Daniel Johannes Bredenkamp appointed liquidators
RUBICOR GROUP LIMITED
RUB
01 Nov 19
At the 1 November 2019 reconvened second meeting of creditors, it was resolved that all Australian entities within the Rubicor Group be placed into liquidation. As a result Joanne Dunn & John Park of FTI Consulting were appointed Liquidator.
LANTERN HOTEL GROUP
LTN
31 Oct 19
At the 28 October 2019 meeting of members, the shareholders of the company resolved that Messrs Brian Silvia and Geoffrey Granger of BRI Ferrier be appointed as Joint and Several Liquidators.
US RESIDENTIAL FUND
USR
30 Oct 19
Darren John Vardy appointed liquidator
BIG UN LIMITED
BIG
23 Oct 19
Neil Cussen of Deloitte appointed liquidator
VIVID TECHNOLOGY LIMITED
VIV
18 Oct 19
At the second meeting of creditors on 18 October 2019, creditors resolved that the company would be wound up and that Peter Gountzos and Richard Cauchi be appointed as joint and several liquidators of the company the same day.
MERLIN DIAMONDS LIMITED
MED
20 Sep 19
Justice O'Bryan appointed Mr Salvatore Algeri and Mr Timothy Norman, of Deloitte Financial Advisory Pty Ltd, as joint and several provisional liquidators to Merlin.
Liquidation explained
Liquidation normally occurs when a company has failed and creditors resolve that it be wound up.
The company goes into liquidation when a registered liquidator is appointed to conduct the winding-up of a company and the liquidation of its assets. A liquidator is generally appointed on the grounds that the company is insolvent and there is no better way for creditors to maximise their return than from liquidating the assets.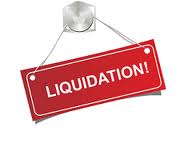 Shareholders may place their company into voluntary liquidation, if, for example, they think it is going nowhere and they may as well sell off assets, discharge liabilities and get back the remainder. A liquidator can also be appointed by the court or a company can voluntarily place itself in liquidation or it can end up in liquidation after a vote of creditors. In the latter case it generally occurs because a viable arrangement is not possible during the course of a voluntary administration.
What is the liquidator's role?
The liquidator terminates company activities, collects and sells the assets and distributes the resulting funds to creditors in accordance with statutory priorities. One of his or her major tasks is to admit claims by creditors and then pay them according to priorities set out in the law.
In liquidation, no person can perform or exercise any function or power as an officer of the company other than with the liquidator's written approval, although this does not technically remove the directors from office. However, they are stripped of all their powers. Note that a company can also be in provisional liquidation, a sort of half-way house status, while enquires are made about the financial situation of the company pending liquidation, some other form of external administration, or returning the company to the control of the directors.
What does it mean to you as a shareholder?
Generally this is the worst possible outcome for shareholders. Rarely in circumstances where the company has failed, is there anything left over for distribution to shareholders.
Remember who your directors and executives were and resolve to avoid in future any companies they may be involved in.
Finding your company
If your company has been delisted or is suspended from quotation it may well be in liquidation. You can click on the link below to see a list of all companies in liquidation (for members only) or find a specific company that is in liquidation by:
Searching by code (see box above right)
Searching by company name (see box above left)
Clicking on the appropriate letter of the alphabet (see the alphabet index above)
If you are unable to find your company or the information is incomplete or incomprehensible we recommend you send us a message and we will try to assist.
Please bear in mind we are unable to help with private companies, public companies that have never been listed or with companies domiciled outside Australia or New Zealand. The Australian Securities and Investments Commission on 1300 300 630 or the NZ Companies Office on 0508 266 726 may be able to assist you with other companies.
HELP PLEASE
deListed and InvestoGain are largely the result of voluntary effort. We welcome input and updates from investors, company officers, insolvency practitioners, regulatory bodies, registries and others to admin@delisted.com.au.
Investigate before you invest again to InvestoGain