In Liquidation
Australian companies that are in liquidation feature in the lists below. See also below for an explanation of liquidation and how to determine if your company is in liquidation.
What is company liquidation?
A company goes into liquidation when a registered liquidator is appointed to conduct the winding-up of a company and the liquidation of its assets. A liquidator is generally appointed on the grounds that the company is insolvent and there is no better way for creditors to maximise their return than from liquidating the assets.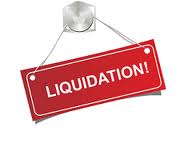 Shareholders may place their company into voluntary liquidation, if, for example, they think it is going nowhere and they may as well sell off assets, discharge liabilities and get back the remainder. A liquidator can also be appointed by the court or a company can voluntarily place itself in liquidation or it can end up in liquidation after a vote of creditors. In the latter case it generally occurs because a viable arrangement is not possible during the course of a voluntary administration.
What is the liquidator's role?
The liquidator terminates company activities, collects and sells the assets and distributes the resulting funds to creditors in accordance with statutory priorities. One of his or her major tasks is to admit claims by creditors and then pay them according to priorities set out in the law.
In liquidation, no person can perform or exercise any function or power as an officer of the company other than with the liquidator's written approval, although this does not technically remove the directors from office. However, they are stripped of all their powers. Note that a company can also be in provisional liquidation, a sort of half-way house status, while enquires are made about the financial situation of the company pending liquidation, some other form of external administration, or returning the company to the control of the directors.
What does it mean to you as a shareholder?
Generally this is the worst possible outcome for shareholders. Rarely in circumstances where the company has failed, is there anything left over for distribution to shareholders.
Remember who your directors and executives were and resolve to avoid in future any companies they may be involved in.
Finding your company
If your company has been delisted or is suspended from quotation it may well be in liquidation. You can click on the link below to see a list of all companies in liquidation (for members only) or find a specific company that is in liquidation by:
Searching by company name (see box above left)
Searching by code (see box above right)
Clicking on the appropriate letter of the alphabet (see the alphabet index above)
If you are unable to find your company or the information is incomplete or incomprehensible we recommend you send us a message and we will try to assist.
HELP PLEASE
deListed and InvestoGain are largely the result of voluntary effort. We welcome input and updates from investors, company officers, insolvency practitioners, regulatory bodies, registries and others to admin@delisted.com.au.
Investigate before you invest again to InvestoGain